Dr.Clinton B.Seeley
1927-1984


Clint Seeley was one of the foremost Tootsietoy collectors and researchers, and I identify with him as one the few people who put their knowledge down on paper for other like-minded readers. His premature death in 1984 meant that his authoritative writings on the subject have fallen out of view of the current generation of collectors, which I hope this website will go some way to correct. Clint was a radiologist, and lived at Andover, Massachusetts, with his wife Gail and four children. Gail has kindly provided some biographical notes below.


Clint Seeley was born in Stamford, Connecticut on 28 August 1927. His middle name was Barnum, named after the grandson of P.T.Barnum of circus fame, whose daughter married a Seeley.

In the early sixties, when we were away on a short break from the kids,
he bought a bunch of Models of Yesteryear for them,
and of course, for himself. This brought back fond memories of toys of his childhood, which were still stored in his parents' attic. He said they went into storage when he "discovered girls!" Those toys were then unearthed, and the fun began. How many hours were spent at the old typewriter, corresponding with other
"toy nuts" (his quote) around the world
. Boxes of trades and purchases arrived almost daily. Over the years, his interest in toys grew, especially Tootsies, and cast irons, and he began writing as well as collecting. The pen name "C.B.C.Lee" came about as his writing became so widespread, mainly for security purposes - all the toys were here in the house, which often did not get locked up.

The family accompanied him to so many meets, and the kids began collecting on their own. A note to the spouses and partners of toy collectors from a poor wife who felt very sorry for herself, for many years - I could not really get excited about toys, since I was a busy wife and mother, and married to a busy doctor who had to be on call and was called often; I barely had time to breathe. However, as I have recently said to my friends and his, he would never believe how I have come to know and appreciate and even admire those toys!

Clint died on 6 March 1984, after a first heart attack at age 47, and a second fatal one at age 56, on that date. He died in the hospital, on the job! His close friends in the toy game were of immense help to me in identifying toys and listing them for estate value. Three New York auctions were held, with the auctioneers taking only the toys that were of greater value at that time. The kids took some, and I sold some on my own to friends who expressed interest, and gave away magazines, etc. Then I started to put some on eBay several years ago via my elder son, and when he found it took too much time from his family, he handed it on to me. With his help, and that of a marvellous teenage boy, I learned the ways of selling on eBay.
Clint would have adored eBay, and it has been g
reat fun for me. I met so many nice people (a few not so nice!) and even some who recognised the Seeley name. Now the toys are nearing an end.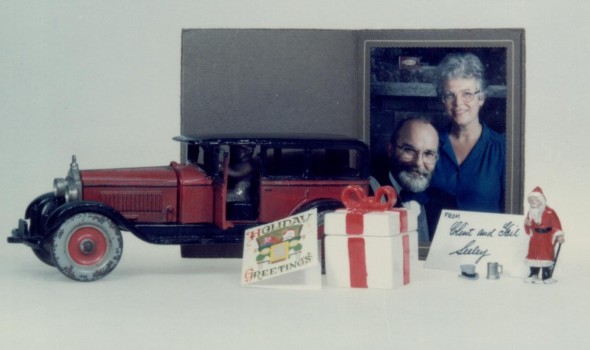 Our last Christmas card together (1983) with a photo of a cast iron Hubley Packard as well as our pictures.